https://www.manutd.com/en/videos/detail/cristiano-ronaldo-sporting-lisbon-friendly-highlights
BIOGRAPHY
Cristiano Ronaldo returned to Manchester United in 2021 as one of the greatest footballers of all time, with a trophy-littered career that is almost beyond the realms of belief in its consistency, longevity, and success.
The world-famous forward has regularly adapted his game over the last two decades, transforming himself from the tricky, mercurial winger that arrived at United in 2003 to a poacher of the highest quality in recent years.
Ronaldo moved away from his home and family on the Portuguese island of Madeira to join Sporting Lisbon's academy and he made his first-team debut as a 16-year-old. He was being courted by several clubs, most notably Arsenal, when Sir Alex Ferguson decided to bring the talented teenager to Old Trafford after the Reds visited Sporting for a pre-season friendly in August 2003. Still spindly but with jaw-dropping footwork, Cristiano made such a great impression in that game, United's players on the flight home called for him to be signed. A deal was quickly done and Ronaldo was handed the iconic no.7 shirt vacated by David Beckham earlier in the summer.
Aged 18 and entrusted with the club's most famous shirt, Ronaldo made his first appearance as a substitute in a home win over Bolton Wanderers. George Best described it as the most exciting debut he'd seen and comparisons between the two developed throughout Cristiano's first season at Old Trafford. His feet were quick, his body agile and his shot powerful. He could frustrate as much as he excited, his undoubted ability yet to be polished by the United coaching staff, but he ended the season with a goal in the FA Cup final against Millwall to win the first of nine trophies in six years.
Fellow teenage superstar Wayne Rooney joined the club in 2004 and over the next two years, the new-look team developed but titles were still going the way of Arsenal and Chelsea. After an altercation between Rooney and Ronaldo at the 2006 World Cup, it seemed the latter would end his time in England prematurely. But, led by Sir Alex, the United family closed the circle and made sure the pair felt looked after. Such faith would be repaid in spades and the Reds romped to three consecutive league titles
The era of renewed success began as United thrashed Fulham 5-1 on the opening day of the 2006/07 season, with two goals from Rooney and one from Ronaldo. As Sir Alex's men claimed a first league title in four years, both players broke the 20-goal barrier for the first time, each of them scoring 23 in all competitions. The Reds came close to achieving a second Treble, losing in the FA Cup final and UEFA Champions League semi-final. More silverware seemed an inevitability for the team and Ronaldo was already building a collection of individual honours. By winning the PFA Players' Player of the Year, Fans' Player of the Year, Young Player of the Year and FWA Footballer of the Year awards, he became the first man to lift all four in the same year.
In the 2007/08 season, Ronaldo's desperate desire to be the world's best player drove him to new heights and United ascended with him. He scored a remarkable 42 goals as Sir Alex's men won a double of the Premier League title and Champions League. The Portugal international – soon to be named captain of his country – scored decisive goals time and time again in both competitions, including our only goal in the Moscow final as the Reds were crowned kings of European club football. The individual accolades all fell to Cristiano once again.
It soon became clear that Ronaldo sought to fulfil his childhood dream of playing for Real Madrid. Sir Alex convinced him to stay at United for one more year, enough time for him to help the Reds win a third consecutive Premier League title and become world club champions in Tokyo and, on a personal level, be crowned Ballon d'Or winner for the first time, aged 23. After playing in a second consecutive Champions League final, as United were beaten by a brilliant Barcelona side in Rome, Ronaldo bid farewell to Manchester and moved to Madrid.
On 6 July 2009, 80,000 people crammed into the Santiago Bernabeu to watch the world's most expensive footballer being unveiled. An astonishing 450 goals in 438 games followed as Ronaldo became the all-time top goalscorer at Real Madrid. Along the way, he helped the Spanish giants to achieve the much sought-after La Decima – their 10th European Cup, in 2014 – and win 15 major trophies in total. As he did with United, Cristiano won every trophy available to Real – and most of them on more than occasion.
After Ronaldo had accomplished everything there was to achieve at Real Madrid, Juventus paid €100m to sign him in 2018. It was the most expensive transfer by an Italian club and the highest fee ever paid for a player older than 30. He won five trophies in three years and was Serie A's top goalscorer last season, 2020/21, with 29 goals for the Old Lady.
Upon completing his second transfer to Old Trafford, the five-time Ballon d'Or winner told United fans the club has "always had a special place in my heart."
His former team-mate and now manager Ole Gunnar Solskjaer said: "You run out of words to describe Cristiano. Ronaldo's return demonstrates the unique appeal of this club and I am absolutely delighted he is coming home."
As for the international stage, Ronaldo has represented Portugal at 11 major tournaments and scored in them all. He captained the Selecao to glory in the 2016 European Championships and 2019 UEFA Nations League, having worn the armband for the last 13 years. At UEFA Euro 2020, he won the Golden Boot.
On 1 September 2021, the day after his transfer back to United was finalised, Cristiano set a new men's international goals record by scoring twice for Portugal against Republic of Ireland to take his tally to 111 – two clear of the previous holder, Iran legend Ali Daei.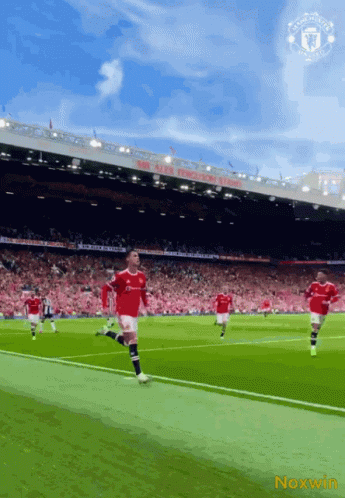 Cristiano Ronaldo | All premier league Goals | winner Best Manchester United Player | 1000 PL https://youtu.be/COpah0NLt24
Golden Foot Award: Cristiano Ronaldo lands spot in Monaco's Football Hall of Fame
Nassima Errami – 21 December 2020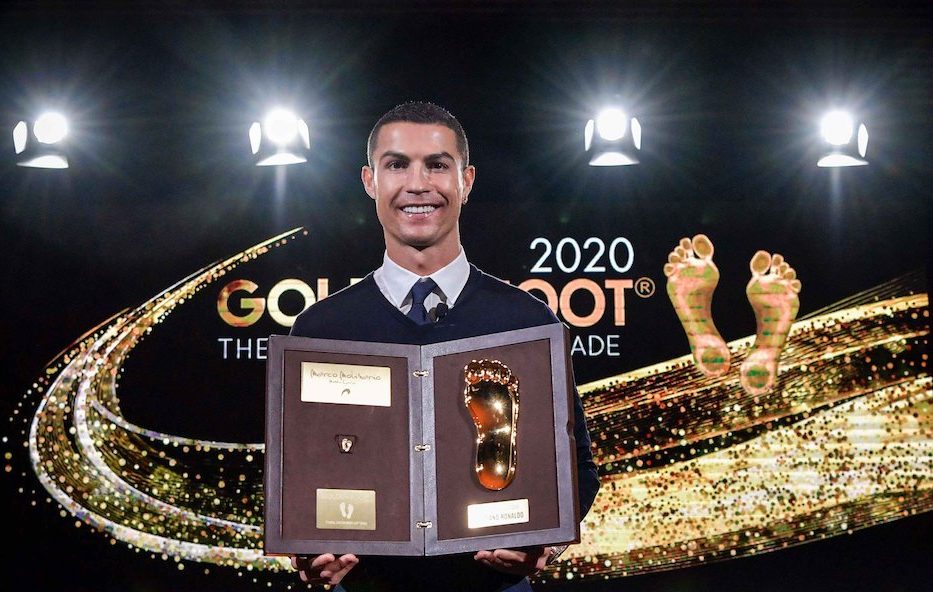 Juventus' enfant terrible was awarded on 20 December the title of the best player of the year. Watched over by an attentive Louis Ducruet, the Portuguese player left his footprints for Monaco's Promenade des Champions.
As every year, it was up to users to decide. In the end, the "Golden Foot" award, which honours the best player of the year, went to five-time Golden Ball winner, Cristiano Ronaldo. Ronaldo received the coveted award just hours after Juventus beat Parma (0-4).
>> READ MORE: After AS Monaco, Louis Ducruet joins UK football club
"It's something I hoped to win one day. Just look at the history of the award. The legends who have received it are very important, and I am very happy to have joined them," he said, adding: "It will be right at the from of my collection!"
Ronaldo is the perfect example of the modern and strong footballer, humanity is lucky to have seen him play.

Antonio Caliendo, founder of Golden Foot
Monaco's Promenade des Champions to gain a new footprint
"It will be an honour for the Principality to have the footprints of a great champion such as Cristiano Ronaldo and the President of Juventus Turin, Andrea Agnelli," said Prince Albert II. Monaco is already halfway there: Ronaldo got his footprints made under the watchful eyes of Golden Foot founder Antonio Caliendo and Louis Ducruet, who took the opportunity to get his Juventus jersey autographed by Ronaldo.
>> READ MORE: Louis Ducruet: "Some esports players have better reflexes than F1 drivers"
Ronaldo's footprints will join those of other football legends, such as Diego Maradona, on Monaco's new Promenade des Champions, which will be unveiled shortly.
CRISTIANO RONALDO WAS BORN IN MADEIRA IN 1985
Cristiano Ronaldo dos Santos Aveiro , or simply Cristiano Ronaldo was born in Santo António in Funchal on February 5, 1985 .
Ronaldo began his career in the youth Football Club Swallow . In 1995, for the National Sports Club and his success with the team led him to sign with Sporting Clube de Portugal for two seasons.
Ronaldo's precocious talent caught the attention of Sir Alex Ferguson , manager of Manchester United. In 2003 , when he was only eighteen years old , Ronaldo signed a contract with the English club, which paid about 12.24 million pounds ( 15 million euros ) to Sporting Clube de Portugal.
Already in the following season , Ronaldo won his first title with Manchester United, FA Cup , and reached the final of the European Football Championship 2004 in Portugal , in which he scored his first international goal , but did not prevent the shock defeat against Greece .
Ronaldo was the first player to win all four main PFA and FWA awards , in 2007 . Ronaldo was third in the voting for best player in the world by FIFA in 2007 and second place in the voting for Ballon d'Or 2007. In 2008 , Ronaldo won his first and only to date , the Champions League with Manchester United, was named best forward and best player of the tournament and was the highest scorer of the same , and won the Golden Boot , making in the middle ward first got it , and won the Golden Boot in the Premier League.
Ronaldo has won three of the four main PFA and FWA awards , not only winning the prize PFA Young Player of the Year and was named by FIFPro8 , World Soccer , Onze d'Or and FIFA ( best player in the world by FIFA in 2008 )
9 , becoming the first Manchester United player to win the Ballon Ouro10 in forty years after George Best . He was the first player to win the FIFA Ferenc Puskás Award in 2009 , awarded to the best goal of the year .
Ronaldo scored this goal 40 meters out of the game FC Porto in the quarter- finals of the Champions League , while playing for Manchester United. Johan Cruyff , three times winner of the Golden Ball , said in an interview on 2 April 2008 , " Ronaldo is better than George Best and Denis Law, who were two brilliant and great players in the history of Manchester United . "
11 . Ronaldo was second in voting for best player in the world by FIFA in 2009 and second in voting for the Ballon d'Or in 2009 .
Ronaldo became the highest scorer in a season in the history of Real Madrid with 53 goals , surpassing the club's previous record of 49 goals by Ferenc Puskás . Six days later , Ronaldo broke the record for most goals scored in a season in the Spanish league with 40 , surpassing Telmo Zarra established in 1951 ( 38 goals ) and Hugo Sánchez mark established in 1990 ( 38 goals ) . Ronaldo also broke the record of Telmo Zarra more goals per minute, with a goal scored every 70.7 minutes .
The newspaper Marca, the official bestower Pichichi Trophy ( the award for top scorer in the League ) , claimed that Ronaldo scored 41 goals ( the newspaper Marca awarded one more goal to Ronaldo that the League , which attributed to Pepe ) . By scoring 40 goals , again won the Golden Shoe , becoming the first player to win the trophy in two different championships .
Ronaldo was third in the voting for best player to play in Europe in the 2010-2011 season , behind Lionel Messi and Xavi Hernández , and second in the election of the FIFA Ballon d'Or 2011, after Lionel Messi and front of Xavi .
Currently plays as a midfielder and wing end at Real Madrid and the Portuguese National Team , in which a captain .
Website: http://www.cristianoronaldo.com
Facebook: https://www.facebook.com/Cristiano
VISIT: Ronaldo Museum
13 x CR7 – 13 places on Madeira associated with Ronaldo
UPDATED: 16-03-2020 ◊ ZMIEŃ JĘZYK: POLSKI
Ronaldo is proud of his island, just like his island is proud of him.
Are you a fan of CR7? Are you visiting Ronaldo's birthplace island and would you like to visit places associated with him? This post is for you.
[hide]
The birthplace of Cristiano Ronaldo dos Santos Aveiro…
Ronaldo was born on Madeira Island, a small, but beautiful Portuguese island on the Atlantic. During my regular visits on the island, I came across multiple places on the island which are more or less associated with him. I thought it would be great to share my list and map with you. Have you discovered other "Ronaldo places" on Madeira which worth mentioning? Let us know in the comments!
https://www.google.com/maps/d/embed?mid=1qwBnWl7abwUs1DmlaU2LyQohCyMLpuH4
1 – Cristiano Ronaldo Airport Madeira (FNC)
We notice that Madeira is proud of Ronaldo since the moment we land on… yes – Cristiano Ronaldo's Airport. Regular visitors are no longer surprised when they see Ronaldo's face in the logo of the airport, but occasionally you can still hear disbelief while the pilot announces the airport name.
2 – Ronaldo's bust
Ronaldo's bust can also be found at the airport, next to the Arrivals Hall exit. This is the second bust placed there. The previous bust wasn't a big success and looked more like a caricature. The present bust still doesn't resemble Ronaldo perfectly, but it is much better.
Places associated with Ronaldo in Funchal
In Funchal you will find:
3 – Cristiano Ronaldo's Museum (CR7 Museum)
In the area next to Funchal Marina you will find the Hotel, Museum, Monument and Cafe/Restaurant of CR7. Even the square where the building is located was named after the footballer – Praça CR7.
I visited the restaurant/bar multiple times, but I did not visit the museum until the fifth visit. I am not crazy about football, but I must admit that the museum did not disappoint me – just the opposite.
If you are not a fan of football or Cristiano, I would rather recommend taking a picture with his monument and a lunch or a coffee at Cristiano Cafe – CR7 Corner Pizza Burger Beer and Wine – in which you can find decorations referring to Ronaldo, ie his autographed t-shirts, and even Ronaldo's face instead of the mirror in the bathroom:
However, if you are into football, you should definitely enter the CR7 Museum.
Tickets cost 5 euro each. You will find there Ronaldo's medals, prizes and trophies, his interactive career history, letters from his fans, gold and silver shoes and t-shirts.
The most interesting is the opportunity to take a virtual photo with the star on the interactive screen "CR7 AUGMENTED REALITY". This pleasure costs an additional 5 euro, but if you do not feel like paying extra, you will be able to take a picture with two of the other statues of Ronaldo inside the museum.
It was very interesting to see letters from Ronaldo's fans from all over the world…
The museum, which is surprisingly large, is located on level -1. On the ground floor by the entrance, you can buy official Ronaldo souvenirs, for example, a bottle of Madeira wine for 15 euro. A T-shirt costs 80 euro.
4 – Ronaldo's Monument
When I came to Madeira for the first time, the monument was located in a slightly different place. Soon after, the monument was moved and placed in front of Ronaldo's museum.
LEFT: Old monument; RIGHT: The present monument
Located in the same building as the museum and the restaurant. It is a modern, contemporary design, 4-star hotel located in the very centre of Funchal, on a walking distance from the port, marina, city centre and the Old Town (Zona Velha).
GO TO POST: THE STREET ART OF ZONA VELHA, FUNCHAL
6 – Official Cristiano Ronaldo ('s sister) store in Funchal
UPDATE SEPTEMBER 2019: During our September visit we were informed that the CR7 Store was moved again, back to its previous location outside of the centre of Funchal. When I was writing the original post, the CR7 store was still located close to the Cruise Terminal, inside the Marina Shopping (Avenida Arriaga, 75, Funchal).
The current address is:
Rua Vale D' Ajuda , Loja 90
9000-116 Funchal, Madeira
Phone 291 766 332
This is how it looked before the move:
You could (and probably still can) buy there clothes for men, women, kids, backpacks, mugs, footballs and other CR7 accessories.
7 – Cristiano Ronaldo's mural in Santo Antoni
In the neighbourhood where Ronaldo grew up, you can find a large and well-done mural of the footballer. It is painted on the wall of St. Antonio Civic Center and it presents Ronaldo wearing the shirt of the Portuguese national team.
Picture credits: richardwilsonartwork.com @richardwilsonartwork
In my opinion, the author of the mural – Richard Wilson – did a great job. Of all Ronaldo's portraits available in Madeira, this one is by far the best and resembles Ronaldo the most.
8 – Small mural of Cristiano in the centre of Funchal
If you are not able to visit Santo Antonio… Just next to the famous fruit market Mercado dos Lavradores, on a wall of Auto Silo do Campo da Barca you will find another, smaller mural/graffiti of Ronaldo.
GO TO POST: MERCADO DOS LAVRADORES IN FUNCHAL – GREAT ATTRACTION OF A TOURIST TRAP?
On another wall of this same building, you will also find the famous whale mural La Baleia made by Marcos Milewski.
Perhaps you have already come across a picture of Ronaldo proudly presenting his cups while sitting on the railing of the viewpoint, with a beautiful view of the bay of Funchal behind him.
Here is a short "behind the curtains" video:
The picture was published worldwide and you can see it [HERE]. It was even parodied by a [LOCAL COMEDIAN].
Would you like to visit the same viewpoint and take your own version of this photo?
Here is the exact location in question – the railing on the eastern side terrace:
Even if you do not intend to copy Ronaldo's picture, the Pico dos Barcelos Viewpoint is still a place worth visiting. It is on the way to the beautiful Curral das Freiras (Valley of the Nuns) and offers magnificent views of the entire Funchal Bay.
10 – Ronaldo's first football clubs in Madeira
The first club in which Ronaldo played was Clube de Futebol Andorinha de Santo António. The Club Complexo Desportivo do Andorinha is located at Caminho do Ribeirinho 4.
It was this small club, where at the turn of 1994/1995 young Ronaldo started his career. From 1995 to 1997 he played in the club Nacional da Madeira, and then as an 11-year-old boy, he moved to Lisbon to play in the first serious club – Sporting.
11 – Ronaldo's house(s) in Funchal
The house where Ronaldo grew up (Quinta do Falcao 27 A) has unfortunately been demolished. You won't be able to see his childhood house – you will only be able to walk through the streets where he used to play football as a child.
Some time ago, the love of Ronaldo, Georgina Rodríguez, posted on her Instagram an interesting picture [SEE PHOTO] of them walking through the streets of Santo Antonio. Seeing Ronaldo's childhood neighbourhood was a very touching moment for her.
The hospital where Ronaldo was born is Dr. Nélio Mendonça Hospital (Av. Luís de Camões 6180, 9000-177 Funchal).
What about his current house? Does Ronaldo currently have a house on Madeira and does he ever visit the island?
Well, yes. His house is located at Rampa do Carvão (Rua Princesa D. Amélia & Rua Carvalho Araújo), next to the Funchal Port roundabout.
During the infamous March 2020 Corona outbreak, that is where he was spending time with his family while his entire football team was quarantined. He arrived on the island in March, to visit his mother, who suffered from a stroke.
12 – Ronaldo's signed T-shirt in Madeira Story Centre
Ronaldo is so important in the history of Funchal that his footprint – an autographed t-shirt – can also be found at the Madeira Story Center Museum in the Old Town of Funchal.
RELATED POSTS:
4 REASONS TO VISIT MADEIRA STORY CENTRE
Places associated with Ronaldo – outside of Funchal
While getting a Poncha at the famous colourful fishing village Câmara de Lobos, we did not expect such a large collection of CR7 souvenirs.
GO TO POST: CAMARA DE LOBOS
You will find it in the bar: Filhos D'Mar on Largo do Poço.
One of the pictures presented Ronaldo with the owner of the bar, who at the same time was busy preparing our drinks.
The owner, however, didn't seem to be in a mood for a chat about the history of these souvenirs- I was only able to find out that Ronaldo is a good friend of the bar owner.
Bonus: Elvis and Ronaldo Sanctuary
If you love quirky and random places, pin this spot on your Madeira bucket list map. When driving from Ponta dos Sol towards Paul de Serra (ER209), you will notice a small exhibition – a tribute to Elvis Presley and Cristiano Ronaldo.
More about this place: HERE
Ronaldo – the icon of Madeira?
Despite this fairly long list of places, I do not think the island is "full of Ronaldo". You won't find his face looking down on you on every corner, as you might have expected. We found some Ronaldo gadgets in a souvenir store, saw some posters in the mall and a couple of cheap shirts at Mercado dos Lavradores, but.. that was basically it.
Yes, Madeira is proud of Ronaldo, but being the birthplace of Ronaldo is just one of the many, many things which Madeira can be proud of…
Cristiano Ronaldo | All Premier League Goals | WINNER Best Manchester United Player | 1000 PL
Cristiano Ronaldo: Watch all of his EURO goals!
https://tmblr.co/Zz6zyxZJe19Oee00
10 celebrations from Cristiano Ronaldo
The essence of the Portuguese champions in his "welcome back home" day
Sports November 22nd, 2016
Author Simone Bernardo
Share
Tweet
Pin
1624
Last Saturday, around 9PM, an hurricane demolished the Vicente Calderon stadium, Cholo Simeone and all Atletico Madrid's players. The hurricane Ronaldo was from Portugal and it came to Spain from Manchester. The Portuguese scored an hat trick but it wasn't the only thing to go under the spotlight. Cristiano celebrated in a very particular way and we thought it could be useful to gather all his celebrations in no particular order.

#1 The pose
In this very derby, Ronaldo celebrated in a strange pose, something like the Thinkerman. The best thing were alle the theories about this celebration made on Twitter.
#2 Calm down
One of the most beloved celebrations by Ronaldo's fans and most hated by all the others. The best was in the 2012 Clasico against Barcelona, when Ronaldo gave Real Madrid the win and the title.
#3 Just too good
Back in Manchester, Ronaldo used to do this kind of face as a celebration. It was something like: "I know, I'm just too good".
#4 El comandante
This celebration was an act of spite for Sepp Blatter, whom mocked Cristiano about his commanding attitude in the pitch during Real Madrid's games.
#5 Eu estou aqui
One of Ronaldo's most famous celebrations, we all remember when he did it after his third goal in the World Cup Qualifier's playoffs agains Sweden.
#6 Hulk
A very visual celebration, as Ronaldo's body take up almost the entire size of the tv screen. His most important one was in the Champions League final agains Atletico.
#7 Sweet fiteen
In 2014 Champions League, Ronaldo smashed the all time record of goals scored in a single year in the tournament. The second gol of the game in the semi-final agains Bayern was his fifteenth.

#8 Daddy Cris
All the story around Cristiano's son is very chatted and also very private. But this very celebration was dedicated to his son and, as Ronaldo himself said, he's a sweet secret between them.

#9 Siuuu
Without any doubt, this is Ronaldo's most iconic celebration. In every stadium he scores you can hear a echo of "Siuuuuuus" coming from the stands.

#10 My bad
The last and the most unique. In his return to Manchester a few years ago, Ronaldo scored the decisive gol agains his former club and decided not to celebrate to show respect to the team and the supporters.
https://www.facebook.com/plugins/video.php?href=https%3A%2F%2Fwww.facebook.com%2FCristiano%2Fvideos%2F10154838311347164%2F&show_text=0&width=560
And maybe he will do the same tonight, when he'll face his past, playing in the Champions League against Sporting Lisbon. For the occasion, Nike has made a special video, narrating all the emotions Ronaldo's going to face tonight. Tell us what you want, but we're sure. If he'll score in the match, he will just rise his hand to the sky and apologize like that night in Manchester.